I am so excited to be hosting a guest post today from the spectacular Kitty from A Law Student's Journey and the owner of the Etsy shop Crafts From A Law Student. I was so thrilled when she said she would be willing to do a tutorial AND a giveaway for you, my lovely readers! And after you read her awesome tutorial, make sure you enter the giveaway!
______________________________________________________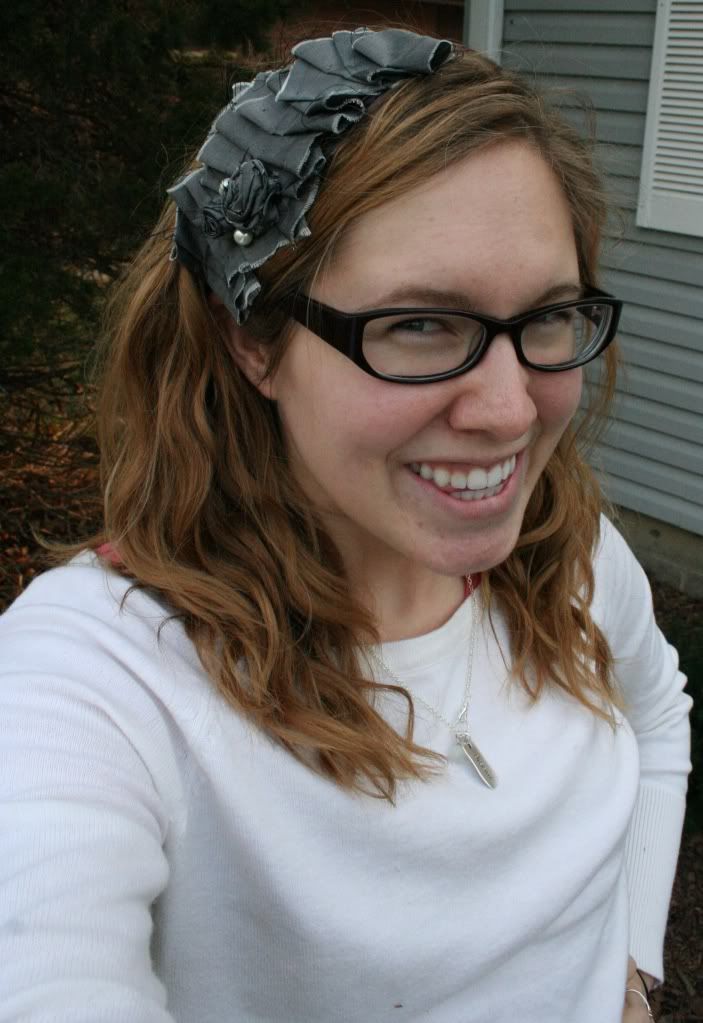 Hey Bloggers, Kitty here from
A Law Student's Journey
! Thanks to the girls at Bettencourt Chase for letting me guest post over here today! These lovely ladies are one of my newest sponsors over on my blog....and remember this awesome headband they posted not long ago?
Yep- that was for me for my best friend's wedding this summer! Perfectly gorgeous!
You may be thinking- why would a law student want to blog....boring!!! Well, I'm more of a crafter first- law student second kinda girl! Oh- and I love photography. Which brings me to my newest tutorial!
The 10-minute T-shirt Camera Strap
I'm an upcycler- and I decided my camera strap needed a facelift- so I decided on using a t-shirt (because they are cheap, soft, and plentiful!) However- this can be made with any fabric- so get creative!
First- you need a t-shirt (or fabric) about 2 inches long then the strap on your camera, and 2.5 times as wide. Camera straps can differ a bit- which is why I'm not giving exact measurements here!
For this one- I decided to sew two t-shirts together to make the piece of fabric long enough. You could do a cool patchwork design as well- simple enough! I used a previously made camera strap cover for my measurements (but go ahead and line it up with your own strap)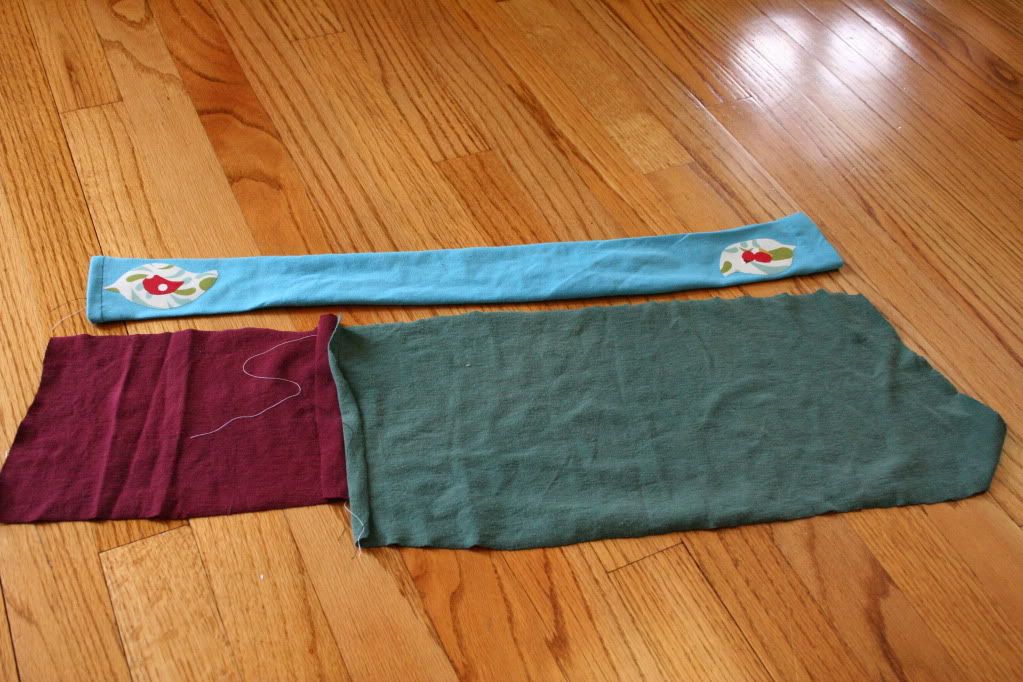 Then fold over the eldges of the shorter sides over about half an inch. Sew two stitches on each side to hold the fold in place. (Picture is with my first stitch only.)
Now is when you could add embelishments to your strap. On this one- I did a simple tshirt ruffle. For the ruffle- you want a continuous piece of fabric that is pretty long so you can "ruffle" it alot. To get this from a tshirt, I used the tshirt yarn approach. (If you havent tried this method-
look here...
its very easy!)
I didn't need an ENTIRE ball of yarn- so I did just 3 strips, which was perfect (actually maybe a little too long?) Cut them extra thick (2-3 inches wide).
Then simple run your strip through the sewing machine on a loose stich- pull one of the strings (the bobbin one) and work it so it ruffles!
Then simply sew it to the middle of your strap (make sure its on the side that will be facing out- not the side where you tucked the unfinished edges over). For other straps I've done iron-on embelishments, flowers etc.- do anything you want to make your cover uniquely yours!
Now to finish it off- simply fold your strip lengthwise- so your decorations are in the inside. Sew your cover closed, flip it right side out....and stip it over your strap!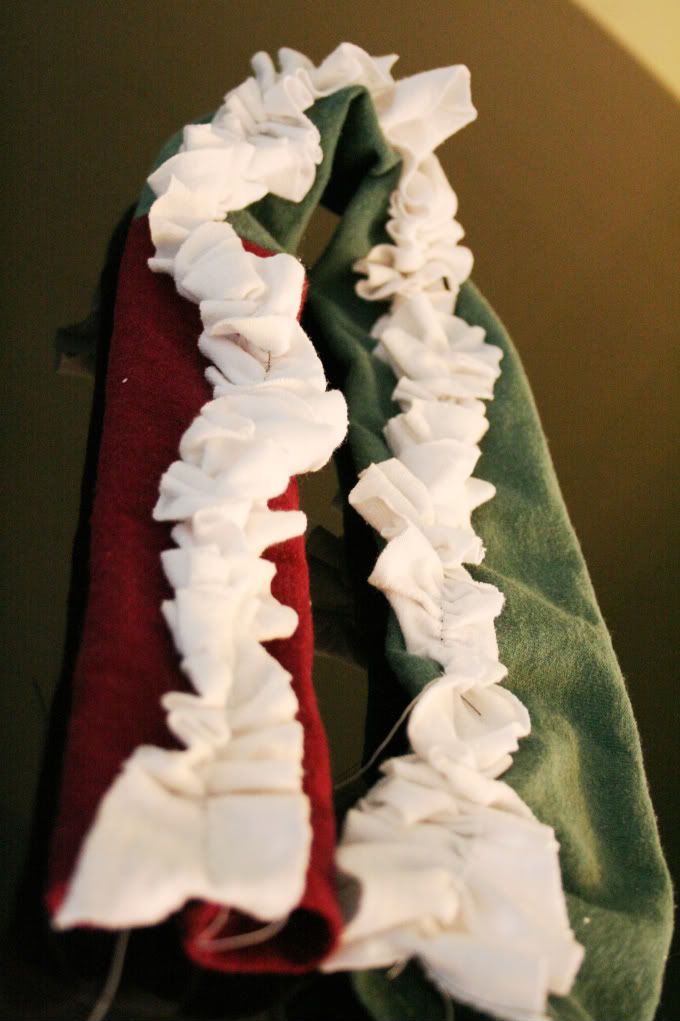 Hope you all enjoyed the tutorial!!! For an extra treat I have a fabulous giveaway for you guys! Not only am I a blogger- but I've got a fabulous Etsy store as well called
Crafts From A Law Student
! I'd love to giveaway one of my crocheted headbands! I make them for adults, children and babies....so there is sure to be one that would fit any family!
The winner will get to pick the colors and style!
ALSO- if you want to purchase anything from my shop- the code
OPERATION15
will get you 15% off your entire order!
So are you ready to win? Make sure you leave your email in each comment
so we can contact you!
1- MANDATORY ENTRY: Be (or become!) a follower of Bettencourt Chase
and leave a comment saying that you are. (A super easy way to do this is to use
Google Friend Connect, in the right sidebar of the page.)
Optional Entries (and more chances to win!) in separate entries, please!:
(Helen and Lindi's two businesses) on Facebook.
3- Tweet, blog or Facebook about this giveaway and leave a comment
with a link to your post(s).
5- Check out my
Etsy
- and tell me what your favorite item is!
6- Purchase anything from my Etsy- and get another entry!
Leave a separate comment for each entry. And now- get to it :)
Thanks again for letting me be a guest!
___________________________________________________________
This giveaway is now closed. The winner is
aunteegem@yahoo.com. Congratulations!
Blog Archive

All work is property of Helen Chase and Lindi Bettencourt-Chase. Powered by
Blogger
.

What we write about